Oil Cooler
Installation Kits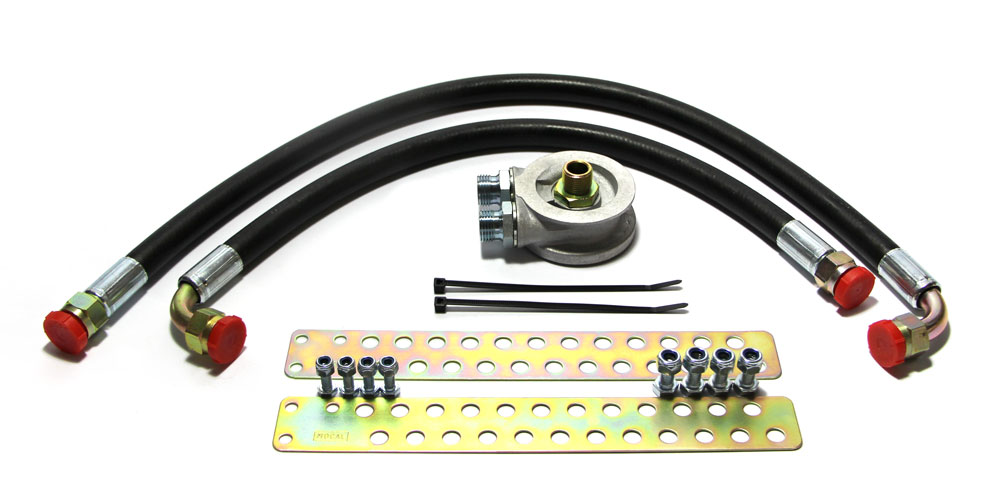 We manufacture components to enable all types of oil coolers to be fitted on any kind of vehicle. To save our customers time and trouble we are able to supply a complete installation kit for fitting Mocal coolers to production cars. Part numbers for the more popular kits are shown below. No vehicle is impossible, provided we can find an example to measure, so please ask if a model is not listed. In the kits we use a top quality textile braided elastomer (a type of black rubber) covered hose with factory swaged on BSP fittings, we also offer these hoses with a stainless steel braid covering where enhanced appearance and extra abrasion resistance is required. Hose bore is 1/2". Where we feel that oil flow could be restricted, we use 5/8".

If, as on most modern cars, a spin off oil filter is used then the kit can incorporate a built in oilstat. If the car has a disposable element filter, then the oilstat must be ordered separately and inserted into a suitable section of hose run after installation. Where braided covering has been specified, to avoid frayed ends at the oilstat, use suitable Proclamps (part no HF-10 for 1/2", HF-12 for 5/8").

Cooler size: We recommend a 10 row cooler for most cars under 2 litres, with a 13 row for larger capacity engines.

Kits with * in price list need coolers with 5/8 BSP connections.
| Part No | Description | Part No | Description |
| --- | --- | --- | --- |
| OCI40 | Alfa 4 cyl rear drive pre 1972 | OCI998 | Mazda 323 (T) |
| OCI41 | Alfa 4 cyl rear drive post 1972 | OCI1879 | Mercedes 190 * (T) |
| OCI42 | Alfa Alfetta (T) | OCI98 | MG late TC early TD |
| OCI43 | Alfa Alfasud (T) | OCI99 | MG late TD/TF |
| OCI2418 | Aston Martin DB2/4 | MGA1 | MGA kit has OEM style steel tubes |
| OCI44 | Audi 80 (T) | OCI96 | Morgan plus 8 preSD1 engine * (T) |
| OCI45 | BMC Mini/MiniCooper | OCI97 | Morgan plus 8 with SD1 engine * (T) |
| OCI46 | BMC Mini Clubman 1100/1300 | OCI94 | Morgan 4/4 (T) |
| OCI49 | BMC 2200/Princess (T) | OCI95 | Morgan plus 4 |
| OCI53 | BMC Healey 100-6/3000 | OCI100 | NSU 1000/1200 |
| OCI1718 | BMC Maestro 2ltr (T) | OCI104 | Opel Manta/Ascona before 1981 (T) |
| OCI52 | BMC Sprite/Midget pre 1974 | OCI1511 | Opel Manta post 1981 (T) |
| OCI51 | BMC Midget 1500 (T) | OCI1828 | Peugeot 205 (T) |
| OCI60 | BMW 4cyl post 1863 *(T) | OCI1540 | Porsche 924 (T) |
| OCI1179 | BMW 6cyl pre 2.3ltr *(T) | OCI109 | Reliant Scimitar 3 ltr * (T) |
| OCI61 | BMW 6cyl post 1969 * | OCI110 | Reliant Scimitar 2.8 ltr * (T) |
| OCI964 | Caterham Super 7 1981-83 (T) | OCI111 | Renault 5 (T) |
| OCI1287 | Caterham Super 7 1983 (10x115 cooler)(T) | OCI2417 | Renault 5 GT Turbo |
| OCI151 | Chevrolet Camaro V8 * (T) | OCI999 | Renault 18 Turbo (T) |
| OCI1000 | Chevrolet Corvette * (T) | OCI112 | Rootes Imp/Chamois (T) |
| OCI1829 | Colt Shogun * (T) | OCI115 | Rootes Avenger (T) |
| OCI887 | Colt 1200/1300/1400 fwd hatchback (T) | OCI118 | Rover Range Rover * (T) |
| OCI63 | Colt 2000 rear wheel drive (T) | OCI119 | Rover new 3500 * (T) |
| OCI64 | Datsun Cherry (T) | OCI120 | Rover Land Rover |
| OCI66 | Datsun 160/180 (T) | OCI122 | Saab 99 2 ltr (T) |
| OCI68 | Datsun 140Z/260Z/240K/260C (T) | OCI128 | Skoda S110 (T) |
| OCI70 | Fiat 128 (T) | OCI124 | Subaru 1600 (T) |
| OCI71 | Fiat 127 (T) | OCI127 | Sunbeam Lotus |
| OCI69 | Fiat 4cyl rwd (T) | OCI2435 | Suzuki Swift (T) |
| OCI73 | Fiat Ritmo/Strada (T) | OCI997 | Toyota Corolla (T) |
| OCI72 | Fiat x-19 (T) | OCI129 | Toyota Carina/Celica (T) |
| OCI2423 | Fiat Uno Turbo | OCI130 | Triumph Herald/Spitfire (T) |
| OCI77 | Ford Ang/Esct/Ctna pre 1971 | OCI131 | Triumph Vitesse/GT6 rhd |
| OCI78 | Ford Esct 1300/1600 ohv post 1971 (T) | OCI132 | Triumph TR2/3/4a |
| OCI1204 | Ford Escort Mk3 (T) | OCI133 | Triumph 2000/2.5 PI |
| OCI74 | Ford Fiesta (T) | OCI134 | Triumph TR5/6 |
| OCI150 | Ford Mustang V8 * (T) | OCI135 | Triumph GT6 lhd |
| OCI75 | Ford RS2000 * (T) | OCI136 | Triumph Dolomite |
| OCI76 | Ford V4/V6 German eng. * (T) | OCI137 | Triumph TR7 |
| OCI80 | Ford V4/V6 UK eng not pas * (T) | OCI1230 | Triumph TR5/6 spin off |
| OCI81 | Ford V4/V6 UK eng with pas * (T) | OCI1382 | Vauxhall Astra 1800 & GTE |
| OCI2391 | Ford Sierra Cosworth * (T) | OCI138 | Vauxhall Chvt/Viva/Frza ohv |
| OCI82 | Honda Civic | OCI141 | Vauxhall Chvt/Vva/Frza.Mgm ohc (T) |
| OCI83 | Honda Accord/Prelude (T) | OCI142 | Vauxhall Cavalier pre 1981 (T) |
| OCI2421 | Honda CRX (T) | OCI1511 | Vauxhall Cavalier post 1981 (T) |
| OCI84 | Jaguar 6cyl E type * | OCI146 | Volkswagen Beetle |
| OCI85 | Jaguar Mk2/240/340/XK150 * | OCI147 | Volkswagen Beetle kit with remote filter |
| OCI1582 | Jaguar XJ6 * | OCI148 | Volkswagen Golf (T) |
| OCI1830 | Jaguar XJ12XJS V12 * | OCI149 | Volkswagen Scirocco (T) |
| OCI86 | Lada all models (T) | OCI143 | Volvo 4cyl not 66/343 (T) |
| OCI89 | Lotus Elan post 1971 (T) | OCI144 | Volvo 6 cyl |
| OCI91 | Lotus 7 post 1971 | | |
| OCI92 | Lotus Europa Ford eng. (T) | | |
| OCI93 | Lotus Europa Renault eng | | |