MOCAL® - the most comprehensive line of oil cooling and fluid conveying products for automotive, marine and industrial applications. 
The most popular oil to air coolers are the pressed plate range, which were first made in the late 50's. These coolers, built to our specification since 1965 must rate as the single most commonly used component on racing cars world wide.

The cooler consists of a variable number of aluminium pressed plates forming oil ways and end tanks, the oil ways contain turbulators. These do not only break down boundary layer effects in the flow to obtain maximum heat dissipation without undue pressure drop but also, because they are brazed to both surfaces of the plates, hold them together under pressure.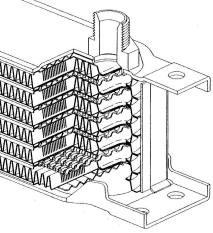 The oil ways are interspersed with aluminium strip louvered and formed into corrugations to provide airways.

The design is beautifully simple and efficient and most suitable for mass production, but it is restricted to a 2" thickness and a limited amount of lengths.
The secret of the success of the Mocal cooler is our insistence on the highest standards of build quality allied to a rigorous inspection system. In particular the attention paid to the accuracy of the pressing tools to ensure the closest contact of the plates during the "Nocoloc" brazing process ensures our superiority over look-a-likes from the Far East.

Maximum working pressure on the standard range of coolers is 10 bar (150psi)although each cooler is tested to 11.5 bar (170psi) this is adequate for all but the most arduous motoring applications, however some customers prefer a higher pressure rating, for instance where the pressure by pass valve does not provide enough protection as in high rpm in cold start up conditions or on dry sump installations.

We have introduced a heavy duty (HD), 12bar (180psi)working pressure, version of the cooler which is dimensionally similar but has aluminium castings between the plates, on the standard cooler this is the weakest point where they are unsupported by fins or turbolaters, there is also thicker material in some areas. These coolers are about 18% heavier.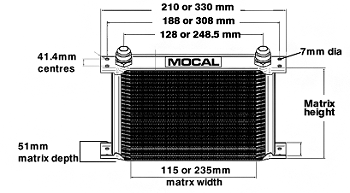 Weights and Measurements
The coolers are available in various heights and two widths, 115mm matrix or 235mm matrix but only one, 51mm, front to back measurement. The height of a cooler is usually r ferred to in rows, these are the number of oilways including top and bottom plates which carry oil.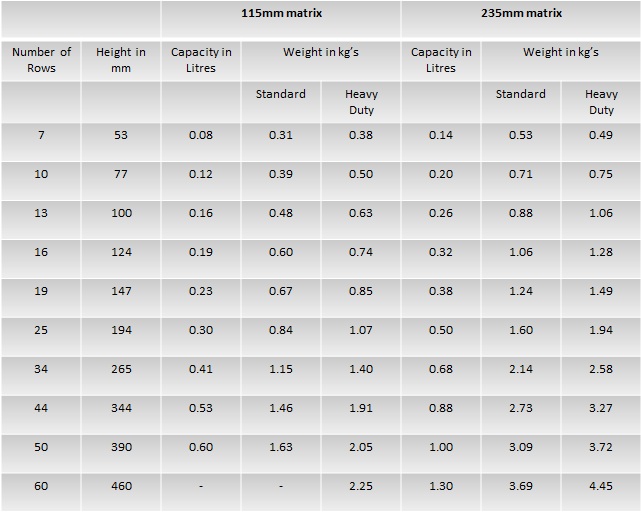 Performance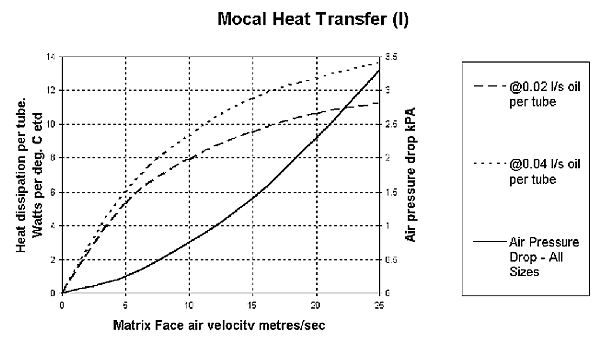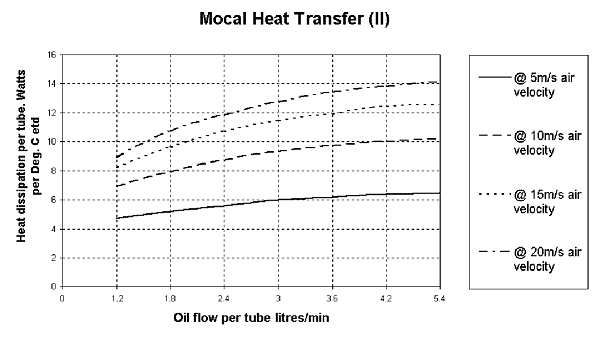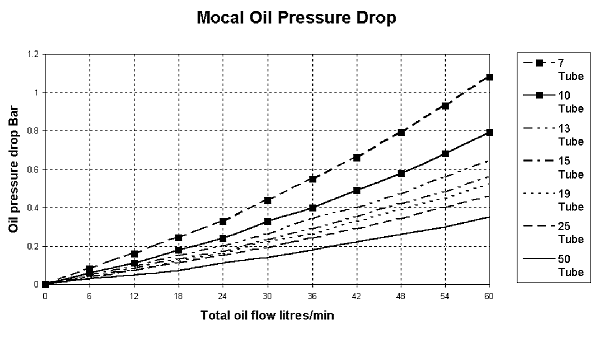 Interpreting the graphs
We will take Mocal heat transfer (II) as an example.
1. Calculate oil flow per tube. Usually an unknown, the oil flow through the engine can only be measured using a flow meter. ( Example 29 litres/min through 16 row cooler \29 ¸ 16 = 1.8 litre/ min ).
2. Calculate etd (extreme temperature difference ) (Example oil in to cooler at 120° C - Ambient at 25° C \ 120 - 25 = 95)
3. State matrix air velocity. Again an unknown depending on cooler position, whether ducted etc, typically a fifth of the available air would go through the cooler. ( Example road speed 112mph divide by 2.25 to get 50 metres/sec divide by 5 gives 10 m/s m.a.v.)
4. From the graph we find we are dissipating 8.8 watts per tube per °C etd.
5. Calculate total heat dissipated ( Example 8.8 x 16 (tubes) x 95 (etd) =13376 watts @ 13.4 kilowatts.
6. Calculate oil out of cooler temperature which is arrived at by deducting the heat dissipated multiplied by a constant of 39 divided by the oil flow rate from oil temperature in to cooler
( Example 120 - ( 13.4 x 39 ¸ 29) = 102° C
From this we can conclude that in the example given we are reducing the temperature of the oil going to the bearings from 120° C to 102° C. If it seems too complicated please send us the parameters and we will work it out.
Setrab have no graphs available, but do have a comprehensive computer programme to work out individual cases, please give us the parameters and we will provide a print out.
Graphs for oil pressure drop are self explanatory, however please note that the oil in the Laminova graph is at 120° C, the oil in the Mocal is at 100° C and therefore thicker, so meaningful comparisons are difficult.
KPa to psi multiply by 0.145
Bar to psi multiply by 14.5
We manufacture components to enable all types of oil cooler to be fitted any kind of vehicle. To save our customers time and trouble we are able to supply a complete installation kit for fitting Mocal coolers to production cars, part numbers for the more popular kits are shown below, no vehicle is impossible provided we can find an example to measure, so please ask if a model is not listed. In the kits we use a top quality textile braided elastomer (a type of black rubber) covered hose with factory swaged on BSP fittings, we also offer these hoses with a stainless steel braid covering where enhanced appearance and extra abrasion resistance is required. Hose bore is 1/2", where we feel that oil flow could be restricted we use 5/8"

If, as on most modern cars, a spin off oil filter is used then the kit can incorporate a built in oilstat, if the car has a disposable element filter then the oilstat must be ordered separately and inserted into a suitable section of hose run after installation, where braided covering has been specified then to avoid frayed ends at the oilstat use suitable Proclamps, part no HF-10 for 1/2", HF-12 for 5/8".

Cooler size. We recommend a 10 row cooler for most cars under 2 litres with a 13 row for larger capacity engines.
Kits with * in price list need coolers with 5/8 BSP connections.

| | | | |
| --- | --- | --- | --- |
| Part No | Description | Part No | Description |
| OCI40 | Alfa 4 cyl rear drive pre 1972 | OCI998 | Mazda 323 (T) |
| OCI41 | Alfa 4 cyl rear drive post 1972 | OCI1879 | Mercedes 190 * (T) |
| OCI42 | Alfa Alfetta (T) | OCI98 | MG late TC early TD |
| OCI43 | Alfa Alfasud (T) | OCI99 | MG late TD/TF |
| OCI2418 | Aston Martin DB2/4 | MGA1 | MGA kit has OEM style steel tubes |
| OCI44 | Audi 80 (T) | OCI96 | Morgan plus 8 preSD1 engine * (T) |
| OCI45 | BMC Mini/MiniCooper | OCI97 | Morgan plus 8 with SD1 engine * (T) |
| OCI46 | BMC Mini Clubman 1100/1300 | OCI94 | Morgan 4/4 (T) |
| OCI49 | BMC 2200/Princess (T) | OCI95 | Morgan plus 4 |
| OCI53 | BMC Healey 100-6/3000 | OCI100 | NSU 1000/1200 |
| OCI1718 | BMC Maestro 2ltr (T) | OCI104 | Opel Manta/Ascona before 1981 (T) |
| OCI52 | BMC Sprite/Midget pre 1974 | OCI1511 | Opel Manta post 1981 (T) |
| OCI51 | BMC Midget 1500 (T) | OCI1828 | Peugeot 205 (T) |
| OCI60 | BMW 4cyl post 1863 *(T) | OCI1540 | Porsche 924 (T) |
| OCI1179 | BMW 6cyl pre 2.3ltr *(T) | OCI109 | Reliant Scimitar 3 ltr * (T) |
| OCI61 | BMW 6cyl post 1969 * | OCI110 | Reliant Scimitar 2.8 ltr * (T) |
| OCI964 | Caterham Super 7 1981-83 (T) | OCI111 | Renault 5 (T) |
| OCI1287 | Caterham Super 7 1983 (10x115 cooler)(T) | OCI2417 | Renault 5 GT Turbo |
| OCI151 | Chevrolet Camaro V8 * (T) | OCI999 | Renault 18 Turbo (T) |
| OCI1000 | Chevrolet Corvette * (T) | OCI112 | Rootes Imp/Chamois (T) |
| OCI1829 | Colt Shogun * (T) | OCI115 | Rootes Avenger (T) |
| OCI887 | Colt 1200/1300/1400 fwd hatchback (T) | OCI118 | Rover Range Rover * (T) |
| OCI63 | Colt 2000 rear wheel drive (T) | OCI119 | Rover new 3500 * (T) |
| OCI64 | DatsunCherry (T) | OCI120 | Rover Land Rover |
| OCI66 | Datsun 160/180 (T) | OCI122 | Saab 99 2 ltr (T) |
| OCI68 | Datsun 140Z/260Z/240K/260C (T) | OCI128 | Skoda S110 (T) |
| OCI70 | Fiat 128 (T) | OCI124 | Subaru 1600 (T) |
| OCI71 | Fiat 127 (T) | OCI127 | Sunbeam Lotus |
| OCI69 | Fiat 4cyl rwd (T) | OCI2435 | Suzuki Swift (T) |
| OCI73 | Fiat Ritmo/Strada (T) | OCI997 | Toyota Corolla (T) |
| OCI72 | Fiat x-19 (T) | OCI129 | Toyota Carina/Celica (T) |
| OCI2423 | Fiat Uno Turbo | OCI130 | Triumph Herald/Spitfire (T) |
| OCI77 | Ford Ang/Esct/Ctna pre 1971 | OCI131 | Triumph Vitesse/GT6 rhd |
| OCI78 | Ford Esct 1300/1600 ohv post 1971 (T) | OCI132 | Triumph TR2/3/4a |
| OCI1204 | Ford Escort Mk3 (T) | OCI133 | Triumph 2000/2.5 PI |
| OCI74 | Ford Fiesta (T) | OCI134 | Triumph TR5/6 |
| OCI150 | Ford Mustang V8 * (T) | OCI135 | Triumph GT6 lhd |
| OCI75 | Ford RS2000 * (T) | OCI136 | Triumph Dolomite |
| OCI76 | Ford V4/V6 German eng. * (T) | OCI137 | Triumph TR7 |
| OCI80 | Ford V4/V6 UK eng not pas * (T) | OCI1230 | Triumph TR5/6 spin off |
| OCI81 | Ford V4/V6 UK eng with pas * (T) | OCI1382 | Vauxhall Astra 1800 & GTE |
| OCI2391 | Ford Sierra Cosworth * (T) | OCI138 | Vauxhall Chvt/Viva/Frza ohv |
| OCI82 | Honda Civic | OCI141 | Vauxhall Chvt/Vva/Frza.Mgm ohc (T) |
| OCI83 | Honda Accord/Prelude (T) | OCI142 | Vauxhall Cavalier pre 1981 (T) |
| OCI2421 | Honda CRX (T) | OCI1511 | Vauxhall Cavalier post 1981 (T) |
| OCI84 | Jaguar 6cyl E type * | OCI146 | Volkswagen Beetle |
| OCI85 | Jaguar Mk2/240/340/XK150 * | OCI147 | Volkswagen Beetle kit with remote filter |
| OCI1582 | Jaguar XJ6 * | OCI148 | Volkswagen Golf (T) |
| OCI1830 | Jaguar XJ12XJS V12 * | OCI149 | Volkswagen Scirocco (T) |
| OCI86 | Lada all models (T) | OCI143 | Volvo 4cyl not 66/343 (T) |
| OCI89 | Lotus Elan post 1971 (T) | OCI144 | Volvo 6 cyl |
| OCI91 | Lotus 7 post 1971 | | |
| OCI92 | Lotus Europa Ford eng. (T) | | |
| OCI93 | Lotus Europa Renault eng | | |
Any engine fitted with a full flow oil filter may be adapted to take an oil cooler. This is achieved in various ways.

Oil cooler take-offs

Type A

A sandwich plate fitted between filter head and filter bowl. In certain cases there is insufficient room to fit a sandwich plate, in these instances it is sometimes possible to obtain a filter assembly shorter than the original fitting. We can advise if such filters are available for any particular engine. Our sandwich plates for engines with spin on filters can have built in thermostat.

Type B

A sandwich plate between the filter assembly and cylinder block.

Type C

Discard the original filter head and replace with a filter head tapped to take the oil flow.

Type D

The original filter assembly may be relocated and instead of a sandwich plate, a take-off plate and remote filter may be fitted, see below. In the case of the Triumph Dolomite and Stag a cover plate on the block may be removed and replaced with a special take off (TOP7/7B)

Type E

For the Rover, Buick, Oldsmobile, V8 where space can be very limited we can supply a replacement oil pump cover with outlets for a remote filter plus oil cooler if required.

Type F

For the 6 Cylinder Triumph engines where there is not enough room to fit a Type A plate we provide an adapter turning the filter through 90º, For convenience this takes a spin on oil filter

Type G

In the case of BMC "A" and "B"series engines an external oil pipe may be removed and replaced with hoses running to and from the oil cooler. "A" series have 1/4 NPTF & 5/8 UNF use HEM8-4-8 & HEM1-7-8 hose ends or suitable adapters. "B" series have 1/2BSP threads, use suitable adapters.

Type J

The Volkswagen Beetle and Porsche derivatives have an oil cooler fitted to the engine as standard, this will be insufficient for modified engines and also blocks the air flow to number 4 cylinder. We provide an adapter to fit in place of the existing cooler with 3/8NPTF connections to cooler. Consideration may be given to fitting a remote oil filter in the cooler circuit, the original engine having no filter, we advise fitting a part number 500 valve in place of the original combined oil pressure relief and cooler bypass valve, this ensures oil flow through the filter at all times. An oilstat can be used to control flow to the cooler.

It is sometimes desirable to relocate the existing oil filter due to lack of space brought about by engine changes, installation in kit cars, fitting an oil cooler or in a dry sump system. We have two types of take off plates that fit in place of existing spin on filter to allow for connection to a remote filter.

Type H

Top take off, TOP will require a minimum of 4.5" clearance including hose fittings and adapters.

Sideport take off, TOPO will require only 2.5" clearance. Can be turned to face any direction.
Fitting chart
Make
Model
Sandwich
Pt No
Type
Take off
Pt No
Alfa Romeo
all 4 cyl models after '72
SP1
A
TOP1/TOPO1
H
all 4 cyl models
SP14
B
American Motors
all models '65 on
SP1C
A
TOP1C/TOPO1C
H
Audi
all models
SP1
A
TOP1/TOPO1
H
Austin Healey
Sprite
G
all 6 cyl models
SP15
B
Austin/Morris BMC etc
all models with "A" series engine
A
BL
Montego
SP1C
A
TOP1C/TOPO1C
H
Maestro with o series engine
SP1C
A
TOP1C/TOPO1C
H
Marina 1.3
SP1E
A
TOP1E/TOPO1E
H
BMW
all models with spin on filter
SP1
A
TOP1/TOPO1
H
6 cyl models with removable element filter
SP26
A
Buick
all models '59 on
SP1C
A
TOP1C/TOPO1C
H
all models '78 on
SP1D
A
TOP1D/TOPO1D
H
Cadillac
V6 all models all models '60 on
SP1C
A
TOP1C/TOPO1C
H
Chevrolet
All V8 models with spin on filter
SP16A
A
TOP16/T0O16A
H
all models '78 on
SP1D
A
TOP1D/TOPO1D
H
Chrysler (America)
all models '59 on
SP1
A
TOP1/TOPO1
H
Chrysler (Britain)
all models
SP1
A
TOP1/TOPO1
H
Daf
all models
SP1
A
TOP1/TOPO1
H
Datsun
all models *
SP1*
A
TOP1/TOPO1
H
FIAT
all models over 900cc
SP1
A
TOP1/TOPO1
H
Ford (GB)
Anglia 105F, Cortina & Escort '70 on
SP1
A
TOP1/TOPO1
H
above pre Oct '70
SP3
A
V4 and V6 models
SP1
A
TOP1/TOPO1
H
Ford (Germany)
all models '62 on
SP1
A
TOP1/TOPO1
H
Ford (U.S.A.)
all models '59 on
SP1
A
TOP1/TOPO1
H
Honda
Accord/Prelude *
SP1G*
A
TOP1G/TOPO1G
H
Jaguar
MK2, 240, 340, XK150
SP10
A
all other 6 cyl models
SP31
B
all 6 cyl models
FH2
C
TOP10
all 12 cyl models
FH4
C
Lotus
all models after '71
SP1
A
TOP1/TOPO1
H
Elan all models pre '71
SP3
A
MG
Midget 1500
SP1A
A
TOP1A/TOPO1A
H
late TD/TF
SP24
A
MG A/B
G
Mazda
all models '89 on
SP1F*
A
TOP1F/TOPO1F
H
Mercedes
230SL and 220 range
SP8
A
Mitsubishi Colt
all models *
SP1F*
A
TOP1F/TOPO1F
H
Morgan
Plus 4
SP9
B
Plus 4
SP13
A
See explanation under "Triumph"
NSU
1000, 1200 use with spin-off filter
SP12
A
Oldsmobile
all models '60 on except V6 '78 on
SP1C
A
TOP1C/TOPO1C
H
V6 models '78 on
SP1D
A
TOP1D/TOPO1D-
H
Opel
all models except 1.6/1.8 ltr after '81
SP1
A
TOP1/TOPO1
H
all V8 models
SP16
A
TOP16/16A
H
Peugeot
204/5 & 304/5 '75 on except GTI
SP1
A
TOP1/TOPO1
H
204/5 & 304/5 to '75 except diesel
SP1D
A
TOP1D/TOPO1D
H
GT GTI & Diesel
SP1
A
TOP1D/TOPO1D
H
204
SP20
A
404 pre March '68
SP22
A
Pontiac
all models '60 to '78
SP1C
A
TOP1C/TOPO1C
H
all models '78 on
SP1D
A
TOP1D/TOPO1D
H
Reliant
V6 models
SP1
A
TOP1/TOPO1
H
Renault
all models
SP1
A
TOP1/TOPO1
H
Rover

2000, 3500 & all derivatives with SD1 engine
SP1
A
TOP1/TOPO1
H
3500 pre SD1 engine
SP1C
A
TOP1C/TOPO1C
H
Replacement pump cover use with remote filter for 3500 and all V8 derivatives
E
PC1
E
Land Rover 4 cyl
SP11
B


Replacement filter head to fit all "K" series engines
FH6
C
213,800,827
SP1G
A
TOP1G/O1G
H
214, 220,414i,420 "K" series, 820
SP1C
A
TOP1C/TOPO1C
H
216 to 1990
SP1
A
TOP1/TOP01
H
216 1990 on Honda engine,218,416,418,600
SP1F
A
TOP1F/TOPO1F
H
Saab
V4, 99 2 ltr (for 1800 99 see TOP 7)
SP1
A
TOP1/TOPO1
H
Simca
1000, 1200S, 100, 1204
SP1B
A
TOP1B/TOPO1B
H
Studebaker
all Avanti, '62 on
SP1C
A
TOP1C/TOPO1C
H
Subaru
all except those with "micro" filter '86 on
SP1*
A
TOP1/TOPO1
H
'86 on with "micro" filters
SP1F
A
TOP1F/TOPO1F
H
Toyota
all models *
SP1*
A
TOP1/TOPO1
H
'87 on with "micro" filter NEW
SP1*
A
TOP1/TOPO1
H
Triumph
Spitfire, Herald
SP1A
A
TOP1A/TOPO1A
H
TR5, TR250, TR6 r.h.d. GT6 and Vitesse
SP6
A
TOP/6
H
TR2/3/4/4a
SP9
B
TR2/3/4/4a
SP13
A
With the SP9 the oil cooler is upstream of the oil pressure valve, damage has occurred during high RPM cold starts. The SP13 avoids this problem but does not suit all installations.
2000, 2.5PI, Left hand drive GT6
FH3
F
TR7, Dolomite
D
TOP7
D
Stag
D
TOB7b
D
Vauxhall
all 4 cyl OHC models to '81
SP4
A
all 6 cyl engines except Velox, Cresta, Ventora
SP1
A
TOP1/TOPO1
H
4 cyl not OHC engines '63 on
SP4
A
Volkswagen
all models except Beetles with no oil filter
SP1
A
TOP1/TOPO1
H
Beetles
D
TOP27
J
Volvo
all models
SP1
A
TOP1/TOPO1
H
Part Nos. SP1/A/B/C/DE/F/G can have thermostatic operation, prefix part no with OT, e.g. OTSP1. Alternatively they may be tapped to take an oil temperature gauge prefix with TGA.
Threads on SP1/OTSP1 & TOP1/TP01.
Plain SP1/OTSP1/TOP1/TP01, i.e. no suffix, is 3/4UNF male/female.
Suffix A is 5/8UNF male/female inverted
Suffix B is M16 male/female
Suffix D is M18 male/female
Suffix E is 5/8UNF male/female
Suffix F is M20 male/female
Suffix G is M22 male/female
| | |
| --- | --- |
| | *We have also made a quantity of sandwich plates from billet aluminium to fit the Japanese microfilter which are of slightly smaller diameter than the new SP1. They are called SP2A/B/ etc. |
For remote filter applications where no take off is shown, the only solution is to use a sandwich plate together with the existing filter bowl with the filter removed, if space is limited, bowl and center bolt must be cut down to suit.
Moquip oil hoses and fittings are economically priced and suitable for all oil carrying purposes in vehicles except those used in competition where regulations specify a 135°C maximum temperature. (The hose will still function at these temperatures but a gradual but detectable hardening of the hose will shorten life).

Standard black hose

Has an elastomer (type of rubber) inner tube, one textile braid reinforcement and elastomer outer cover in accordance with SAE 100R6 specification The temperature range is -40°C to +120°C. 400psi(27.5bar) working, 1600psi(110bar) burst pressure.

Dimensions and bend radius

Stainless steel braided hose

We can supply Moquip 100R6 with a stainless steel braided cover where enhanced appearance and extra abrasion resistance is required. Competition regulations invariably require a braided covering for hoses running through the cockpit area.

Dimensions and bend radius

Fittings for oil hose

The lightweight mild steel fittings with serrated shaft are usually swaged to the hose at our factory. When ordering,measurements should be taken from mating face to mating face, if the assembly does not include a straight fitting, orientation of fittings may be specified, although the swaged ferrule may be clamped in a vice and the fitting rotated to the desired position. When required for on-site assembly use with a worm drive clamp tightened to 10 inch/pounds (1.2Nm), an O-clamp which is secured with pincers is a neat alternative, use a Proclamp if hose is wire braided to avoid unsightly frayed ends.
A range of bracketed filter heads which take the modern spin on oil filter cartridge and enables relocation of the oil filter.

Caused by lack of room due to engine changes
Installations in kit cars

Fitting an oil cooler
Conversion to dry sump system
Conversion to full flow filtration on older cars
They are often used in conjunction with a take off plate which is screwed on in place of the original filter

Suitable oil filter elements are available from many manufacturers, most of them have catalogues with full specifications. When choosing, the first requirement is that it should have a 3/4"UNF thread, 1"UNF if high oil flows are anticipated. The larger the oil filter the less the oil pressure drop so chose the largest that can be accommodated unless weight is a problem. Filter heads can be mounted in any attitude, but we suggest when choosing an oil filter that is to be fitted in other than an upright, filter below, position, it should have an anti-drain valve. No provision is made in our heads for filter relief valves, these are available built-in on some filter elements, they should be avoided if regular oil changing and gentle warm ups can be relied upon. Filter heads can be mounted in any attitude, but we suggest when choosing an oil filter that is to be fitted in other than an upright, filter below, position, it should have an anti-drain valve. We are always pleased to recommend a filter for any application. Direction of flows listed below are for filters as illustrated. (remember oil always flows down the outside of the filter and returns up the middle).





RFH1. Takes filter with 3/4UNF thread. A compact design which will require a spacer if a filter larger than 80mm diameter is mounted against a flat surface. Provision can be made to take a capillary type temperature gauge sender or pressure gauge tapping. Available in either flow direction. Has 1/2BSP female ports with a recess to take No 590 sealing ring. Material cast aluminium.

RFH2. Takes filter with 3/4UNF thread, has 1/2BSPports with a recess for No 590 sealing ring. RFH2G takes 1"UNF and has 3/4BSP ports. Both 80 & 98mm diameter filters can be accommodated. Bosses are provided which may be tapped to provide for pressure gauge, oil feed take offs, etc. Left to right flow only. Material cast aluminium.

RFH3. Takes filter with 3/4UNF thread. Left entry RFH3A has 1/2BSP ports, right entry RFH3B has 1/2NPTF. 80 & 98mm diameter filters can be accommodated. RFH3A has bosses.. Material cast aluminium.

RFH4. Takes filter with 3/4 UNF thread, has left to right top entry 1/2 NPTF port. Material cast aluminium.


Complete remote oil filter kits:

These kits comprising take off / pump cover, remote filter head, adapters and hoses are available for the popular Land Rover/V8 conversion and can be made up for any installation.
We keep over 1000 different kinds of threaded adapters in stock mainly in aluminium and plated steel.

We have CNC lathes with programmes written for every kind and size of thread to enable us to produce even small quantities of adapters in any material quickly and cheaply.

We also have a database of all adapter suppliers enabling us to locate any 'off the shelf' items.
We keep over 1000 different kinds of threaded adapters in stock mainly in aluminium and plated steel. We have CNC lathes with programmes written for every kind and size of thread to enable us to produce even small quantities of adapters in any material quickly and cheaply.

We also have a database of all adapter suppliers enabling us to locate any 'off the shelf' items.
Early warning systems
Oil pressure switches
Low oil pressure switches are offered as alternatives to the" whoops its too late" pressure warning transmitters fitted as original equipment, ours provide a warning when the oil pressure drops below the desired running pressure, they can irritate by actuating a warning when the engine is ticking over but are absolutely essential for spotting signs of trouble in a competition engine.

They have a 1/8 NPTF thread so screw into matching thread on T piece and use a suitable pressure gauge adapter on the thread vacated by original transmitter. We also offer a fuel pressure warning switch for carburettor engines, an essential to warn of failing pumps, blocked lines or filters all of which can cause a weak mixture to melt pistons in seconds on a highly stressed engine. A nil pressure fuel switch may be fitted downstream of an electric fuel pump to turn pump off in the event of an accident resulting in fuel line rupture etc.

T pieces and oil pressure gauge adapters

All engines have a tapping on an oil gallery to take the oil pressure warning transmitter, we make a range of T pieces to screw into this tapping, T pieces have one male thread to screw into the oil gallery, a female thread to take the original transmitter and a female 1/8 NPTF tapping which allows a pressure switch or a 1/8 BSP female pressure gauge line to be attached via a MMS10-3-3 adapter.

The chart below shows tapping thread for most engines.

Warning lights

Best if immediately visible, ours are 29mm diameter with a choice of red, yellow, green, blue or clear lens, they have a removable diffuser under the lens which may be titled using dry print lettering. A T5.5 side contact bulb is accessed from the front and is sealed against ingress of dust, oil and water. Weight is 1.5 grams.
Electric Oil Pumps

Mocal oil coolers are used for cooling gearboxes, crown wheel and pinion units, differentials and power steering pumps, here the primary problem is not so much concerned with avoiding bearing metal to metal contact, as in engine cooling, but in preventing loss of tolerances due to heat expansion of metals which in turn lead to greater friction resulting in a runaway spiral of heat build up.

Some gearboxes and all power steering pumps have an oil pressure system that can be tapped for oil flow otherwise a remote pump is required.When designing an installation these pumps require a switch, either heat actuated or manual, pumping cold oil is not recommended. Add extra oil to fill cooler, pump and pipes which must be at or below the normal oil level otherwise the oil level in the gear housing will be too high when the pump is switched off. When returning oil onto the gears do so after the point of contact to avoid pumping losses caused by cool oil. If difficulty is experienced in supplying ram air to an oil to air cooler we can supply a fan and housing. Use -6 (3/8" bore) hose.

MOCAL oil cooling diaphragm pump

Pump has integral cooling fan, 12 or 24volt motor. Ports are 3/8NPTF and may be rotated in 90o increments to simplify plumbing. The pump body is made of lightweight nylon, care must be taken when tightening tapered adapters not to over tighten and crack housing.



Perfomance: 2 UK gals/10 litres per minute with 7 amps current draw. Temperature constant use up to 130oC, intermittent up to 150oC.

Dimentions: Weight: 1.5kg/ 3.3lbs

Temperature Switches.

Use to control oil pump action. EWS/1F is a single pole switch and connects to earth on the rise and disconnects on the fall at 110oC, remember component into which it is inserted must be earthed. EWS/1G is a two pole surface mounted switch with two screw holes, connect into earth line, makes on the rise at 100oC and breaks on the fall at 82oC.
Catch tanks

The problem of engine crank case breathing must be considered when preparing a wet sump car for competition. To avoid oil being deposited on the track the rules state that the oil bearing vapour must be either returned to the engine or to a suitable tank where the oil may be trapped. The normal system of sending the oil to the inlet manifold is undesirable in a high performance engine.

We offer a suitable tank in 1, 2 or 3 litre sizes. Made of aluminium, with a special cap incorporating a breather, there are two ¼ BSP female ports with adapters to ½" hose on one side and a sight tube on the other. These are inter change able so can be handed. The tanks are polished and may be anodized red, blue or gold.

Size of tanks


| | | | |
| --- | --- | --- | --- |
| Size | A in mm | B in mm | C in mm |
| 1 Litre | 115 | 132 | 88 |
| 2 Litre | 220 | 132 | 88 |
| 3 Litre | 235 | 154 | 104 |

CT2C - 2 litre chromed aluminium,
CT2RED - 2 litre anodised red aluminium,
CT2BLUE - 2 litre anodised blue aluminium,
CT2GOLD - 2 litre anodised gold aluminium,
CT2CARBON - 2 litre Carbon fibre look,
CT8 - 3 litre brushed aluminium

Dry sump tanks

A range of 3 piece easy clean tanks that can be disassembled for cleaning. They are designed to de-aerate the incoming oil and contain anti surge baffles. These are finished in natural aluminium as standard. Volumes shown below are full capacities, tanks are designed to work half full. Tank size is dictated by the amount of oil you are likely to use plus a third tank capacity. DST4 & DST8 Inlet and outlet ports are tapped M22x1.5, breathers are ½ BSP female with fittings to ½" push-on hose. DST5 & DST7 tanks Inlet and outlet ports are tapped -16JIC, breathers are ¾ BSP female.

| | |
| --- | --- |
| | |
| DST8 5in dia x 15in high - 4.8 litre total | DST4 6.5in dia x 14in high - 7.6 litre total |

DST4BLUE - As above but anodised Blue | DST4BLACK - As above but anodised Black


| | |
| --- | --- |
| | |
| DST5 - 9.5in dia x 16in high, 18.6 litre total | DST7 - 8.25in dia x 16.5in high, 14.4 litre total |

Fuel Swirl Pots

Mainly used with fuel injected engines, these pots act as a surge free fuel reservoir, deaerator and if mounted in a suitable place, a cooler. Fuel from the tank is fed to the swirl pot by a low pressure pump then by high pressure pump from the pot to the injectors, unused fuel is re turned to the pot then to the tank. The three upper connections are -6JIC and the lower connection (to high pressure pump) is -10JIC. Height is 160mm, diameter is 102mm.

FSP1 - Fuel Swirl Pot with mounting base plate
FSP2 - Fuel Swirl Pot with body mounting brackets
Many older cars and even some new ones have oil filters with removeable filter elements. These filters are messy to change and are not so freely available.

We have produced a range of kits to enable the use of modern spin off (or even spin on) filters with 3/4 UNF threads (i.e. the most common). These are available in many different sizes and configurations so we suggest :

1) Pick the largest that will fit into the available space, the bigger the filter the less pressure drop and longer the life.
2) If the filter is pointing downward and is below or level with the sump then a non return valve may not be required, these valves can cause up to 3psi pressure drop.
3) If you are prepared to change the filter regularly so that there is no chance of blockage and gentle warm ups cab be relied on you could dispense with a filter relief valve, this valve bypasses the filter element and could result in dirt on the wrong side of the filter being washed into the bearings. Also most cars with removable element filters will have a filter bye pass built into the original filter head.
4) Consult with filter manufacturers about specifications, most have catalogues that will provide the information that you require.

For most vehicles we offer a kit consisting of an aluminium adapter plate and a threaded centre screw. We found that tolerances on the original filter heads were inconsistent so we recently introduced a floating inner portion to the adapter plate to ensure that there was no internal leakage. The kit illustrated below is typical.

| | |
| --- | --- |
| Part No | Description |
| FCDB2 | Aston Martin DB2 |
| FC283 | BMC A series-Austin Healey Sprite- MG Midget |
| FC1767 | Austin Healey 6 cylinder models |
| FC289 | MG TF- A & B |
| FCMGC | MG C |
| FC284 | Mercedes |
| FC285 | Triumph TR2/3/4/4a with Puralator filter head |
| FC1766 | Triumph TR2/3/4/4a with Tecalimet filter head |
| FC290 | Triumph 6cylinder models |
| FC292 | Triumph TR7 |
| FC286 | Jaguar E type 3.8 |
| FC287 | Jaguar Mark 1 & 2- 2.4 engine to BH7968-3.4 to KH7062, 3.8 to LC4264 |
| FC288 | Jaguar Mark 2 remainder- E type 4.2 to 7R2297 & 240,340 & S types |
| FC291 | Jaguar XJ6 |
| FC3191 | Chevrolet Corvair |
| FC1369 | York diesel |
| FC8741 | Mercedes Smart |
Many race regulations stipulate that cars should have a fuel sampling take off. We use an Aeroquip FD90 dry break coupling for which we have gained FIA approval. Kits are available with various methods of tapping into the fuel system they consist of 3 parts, plug with protective cap, adapter, socket 0.5 metre hose. Most popular adapters are listed below.

FSK1 fuel sampling kit -6JIC male/female as above

FSK2 Fuel sampling kit -6JIC male/male as above

FSK3 Fuel sampling kit 8mm push on

| | | |
| --- | --- | --- |
| | | |
| FSK1PO -6JIC male/female, plug only | FSK2PO -6JIC male/female, plug only | FSK3PO 8mm push on, plug only |
Prolonged use of a car engine in conditions where the oil cannot reach its correct working temperature will cause sludge formation and crankcase oil dilution, leading to excessive wear especially in the cylinder bores. Optimum engine power will only be delivered at correct temperatures. The elimination of drag in engines caused by cold oil is a most important consideration, especially with a racing engine, revving the engine without a load will not put much heat into the oil and devices for preheating the oil may not be available.

It is therefore desirable to control of the oil flow through the cooler by a thermostatic device, we call an oilstat, set to divert oil to the cooler at 80ºC (although a wide range of settings is available for special applications). This is the minimum temperature required to evaporate and dispel contaminating substances.

Mocal Oilstats

Can be built into the oil cooler take off for most engines with spin-off filters, they add nothing to the thickness of the plate.

Are available as a separate unit to be fitted into the oil lines. Two sizes of oilstat for in line fitting are available.



The OT/1 can be supplied with push on fittings for 3/8" or 1/2" bore hose only and is designed for smaller engines with relatively low oil flows.
Dimensions

The larger OT/2 can be supplied with any form of push on or threaded connection, male or female.
Dimensions


The bodies of the these units are die cast aluminium. Control is by a "waxstat", a mass produced item built to highest standards. They are light enough to be supported by the hoses, however a bracket is supplied with the slightly heavier OT/2, if further restraint is required. The oilstats should only be used where oil cooling is adequate, the sensing device will suffer permanent damage above 140°C, replacements are available.